Coach of the Year Award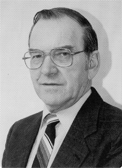 Ernie Roggie has spent a lifetime in the development of the technical programs for the Canadian 5 Pin Bowlers' Association. Without the countless hours and hard work of this dedicated volunteer, our technical programs would be far behind those of other sports. A tribute to Ernie's commitment is the fact that 5 Pin Bowling has one of the largest numbers of certified coaches in any sport across Canada.
The Canadian 5 Pin Bowlers' Association wanted to thank Ernie for his years of hard work and dedication. At a joint meeting of the Canadian 5 Pin Bowlers' Association and the Master Bowlers' Association of Canada, in January of 1991, it was unanimously agreed that, beginning with the 1990-91 bowling season the C5PBA Coach of the Year Award be renamed to honour the man who practically invented the 5 Pin Bowling coaching program.
In 2002, the C5PBA began the process of change to the Coaching Association of Canada's competency based coach training. Many hours and many people were involved with the development of the new 5 pin coaching programs but one man took the lead and brought these programs to reality.
The C5PBA is extremely grateful to these gentlemen for their tireless dedication. You, as competitors and especially coaches, have received the rewards of their work, knowledge and dedication so, if you ever have an opportunity to speak to them, say thank you. We are a better organization because of them!
Past Ernie Roggie Coach of the Year Award winners:
Dylis Turner
Manitoba
Inducted 1997/98
Pam Lutes
Ontario
Inducted 1996/97
Don Emslie
Manitoba
Inducted 1995/96
Fran Clarke
Alberta
Inducted 1994/95
Geoff McMullan
Manitoba
Inducted 1993/94
Geoff McMullan
Manitoba
Inducted 1992/93
Franko Fernetti
Alberta
Inducted 1991/92
Dylis Turner
Manitoba
Inducted 1990/91
Dylis Turner
Manitoba
Inducted 1989/90
Gerry Willard
British Columbia (male)
Inducted 1989

Grass Root

Bill Grant
Southern Ontario
Inducted 1998/99
Maureen Poole
Southern Ontario
Inducted 1999/00
Glennis Godfrey
British Columbia
Inducted 2000/01
Bob Latham
British Columbia
Inducted 2001/02
Gaetan Beauchamp
Quebec
Inducted 2002/03
Helena Haener
Northwest Territories
Inducted 2003/04
Cisco Beyersbergen
Alberta
Inducted 2004/05
Rheal Champagne
Ontario
Inducted 2005-06

Tim Dixon
Ontario
Inducted 2006-07

Gaetan Cote
Quebec
Inducted 2007-08
Jerry Kind
Alberta
Inducted 2008-09
Sylvia Swaenepoel
Manitoba
Inducted 2009-10

Gary Medhurst

Ontario

2010-11

Andre Vaillancourt

Alberta

2011-12

Eric Andersen

Alberta

2012-13

Maria Wood

Alberta

2013-14

Bob Stirling

Alberta

2014-15

Jim Bulger

Newfoundland/Labrador

2015-16

Nancy Fleming

Ontario

2016-17

Rickey Burns

Prince Edward Island

2017-18

Daniel Lamarche

Quebec

2018-19

Cathy Davidson

Ontario

2019-20

Lorraine Fleming

Ontario

2020-21

Elite

Don MacIver
Alberta
Inducted 1999/00
Gord Stewart
British Columbia
Inducted 2000/01
Baxter Vincent
Newfoundland
Inducted 2001/02

Gaetan Cote
Quebec
Inducted 2002/03

Dan Robson
Manitoba
Inducted 2003/04
Geoff McMullan
Manitoba
Inducted 2004/05
Sid Morris
Ontario
Inducted 2005/06
Jack Alblas
Manitoba
Inducted 2006-07
Daniel Lamarche
Quebec
Inducted 2007-08
Lynn Allard
Quebec
Inducted 2008-09

Jim Anderson
Manitoba
2009-10

Jim Anderson

Manitoba

2010-11

Cassey Campbell

Alberta

2011-12

Bob Wilson

Manitoba

2012-13

Linda Seitz

Alberta

2013-14

Daniel Lamarche

Quebec

2014-15

Bob Walters

Ontario

2015-16

Bob Wilson

Manitoba

2016-17

Bob Walters

Ontario

2017-18

Desiree Tytgat

Alberta

2018-19